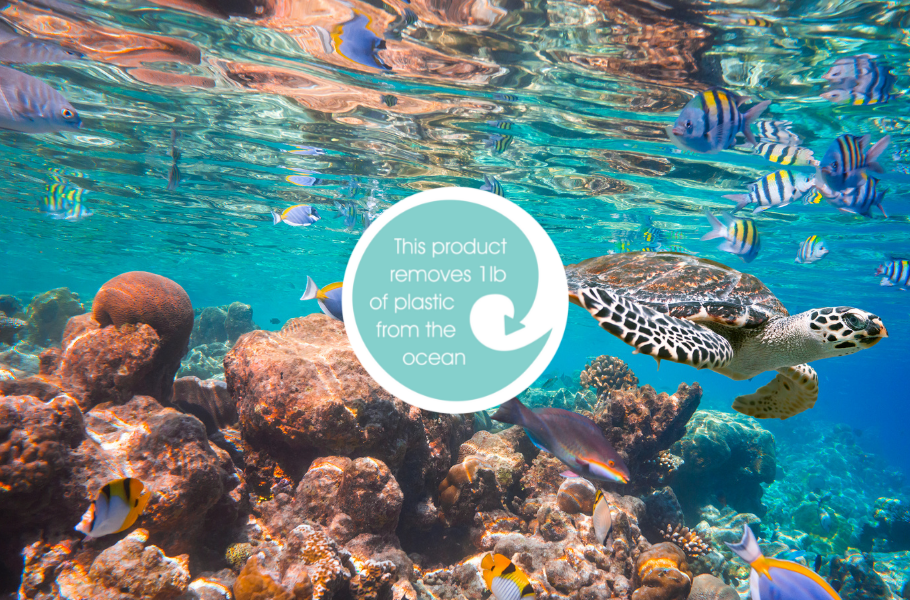 You washed up here on our Vegan Tan shores to find out exactly why we are the talk of the tan. In short our mission is to be unlike any other tan brand, and for all the right reasons. We want every purchase to be filled with purpose. A fake tan brand with a purpose? A bigger purpose than helping guys and gals feel fabulous – yep! We want to make a difference that doesn't cost the earth. As pioneers in beauty, we recognize the magnitude of the industry's plastic problem, and we acknowledge our responsibility to clean up after ourselves. So what if we were to tell you that wearing tan could help save the ocean, would you believe us? Well keep on reading and you'll sea (😉) exactly how.
When it comes to our oceans, do you give a ship?
The ocean remains one of the most vast, mysterious, places on the earth. Around 70% of the planet's surface is covered by oceans and it is home to millions of Earth's plants and animals. Yet every day our oceans are being threatened by ocean pollution. A huge culprit of this is single-use plastic. Did you know that 91% of plastic waste never makes it to recycling, and every day, around 8 million pieces of plastic makes their way into our oceans. Even more horrifying, some findings suggest that if this trend continues that by 2050 the oceans will contain more plastic by weight than fish. These statistics indicate an often ignored pathway of plastic debris entering the oceans, which will have considerable environmental and social impacts in years to come if something doesn't change, and quick.
So, we know you're probably asking yourself, why is a self-tan brand talking about plastic pollution? Well, as we took a look around the beauty industry we noticed that not enough is being done to help protect our oceans. We've spent years perfecting the best tan formula, but thought to ourselves 'let's not stop there'. Let's be a tan brand that is good for your skin AND the planet! Lets Make A Difference! We want to be the talk of the tan for all the right reasons.
We want to give every purchase a purpose, so you can look and feel your best while doing the best for the planet. Take a look at how we're going to make a difference that doesn't cost the earth...
Step 1 – Plastic Negative products
Our bottles may look like normal single use  plastic, but they're actually made from sugar polymer and 100% reclaimed plastic from the ocean. Talk about sweet sunshine!
Step 2 – Cleaning up the mess we have all created!
We're participating in Plastic Neutral Programs. This means that for every Vegan Tan bottle sold, we're removing and recycling 1lb of plastic from the ocean in Goa, India. Essentially, it only takes one Vegan Tan purchase to remove 8 plastic tan bottles from the environment! By taking this bold commitment, every purchase will carry a Negative Plastic Footprint across the full range of Vegan Tan products.
Step 3 – Supporting waste workers
By joining Plastic Neural Programs, we are also adding a crucial income stream for waste pickers and their families in Goa. Through this initiative, Vegan Tan is boosting these waste workers' income by attaching value to hard-to-recycle plastics, while supporting experienced recycling social enterprises who holistically uplift ex-waste pickers through occupational safety, health insurance, and skills training.
Step 4 – On going commitment to ethical
We know our products aren't going to save the world. They can, however, remind us every day that we can make small decisions towards making a cleaner planet. Every step we take at VeganTan is designed to respect people and our planet, so that our boxes are filled with purpose when they arrive at your door. From our e-commerce boxes to how our products are shipped, we always try to be as ethical and as kind to the planet as possible. We are ethical trail blazers and will continue to makes waves in the right direction. Through innovation, inspiration, and positivity- our mission is to change the world, one golden glow at a time!
We hope to see other brands follow suit and join the Plastic Negative Revolution. You can wear the change you want to see in the world. It's your tan, and it's your planet. So, make a change today, for the good of TanKind!
Follow us on Instagram at @VeganTanOfficial to keep up to date with our progress, and to get the glow down on all things tan, all things natural and all things vegan.
A message from our Vegan Tan founder :
"At Vegan Tan, we want to make a difference that doesn't cost the earth. As pioneers in beauty, we recognize the magnitude of the industry's plastic problem, and we acknowledge our responsibility to clean up after ourselves. We can help make a difference and partnering with Plastic Neutral Programs gives us the opportunity to make a significant impact to our lives, and others less fortunate than us. We have one earth, and it's our duty to look after it. We have seen the devastating amount of waste generated every day by our industry, so to us, the urgency of this crisis was impossible to ignore and we decided to step up. Our planet needs us and VeganTan is taking strong strides to protect her."
- Noelle O'Connor, founder and brand creator of Vegan Tan.