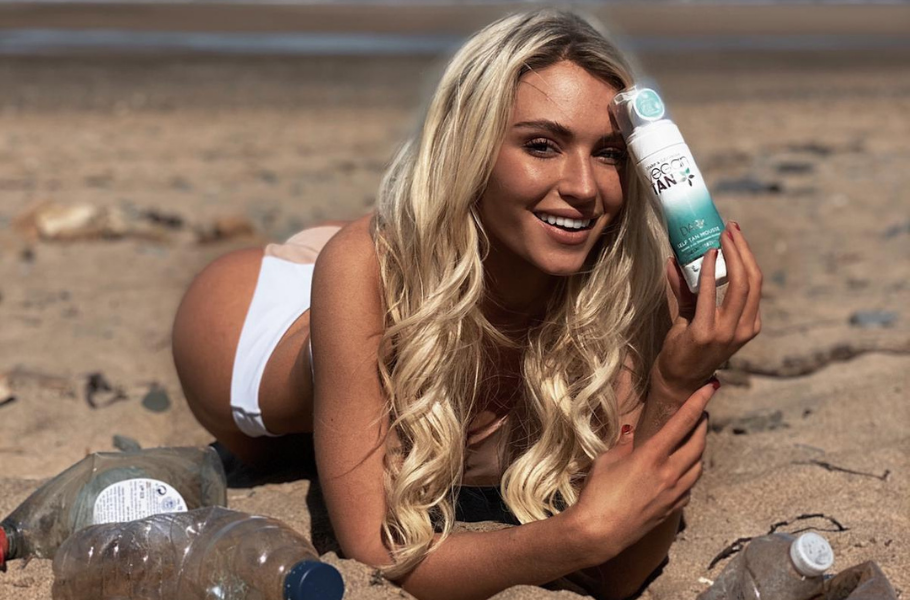 We've recently just welcomed a new brand ambassador (who really needs no introduction, but here it is anyways) Love Island star Lucie Donlan!

It's true what they say, your vibe attracts your tribe. We knew from the minute we saw Lucie doing a beach clean up for World Earth Day that we had to have her as part of the VeganTan Tribe. We're so proud to have the opportunity to work with someone who shares our passion and commitment to making a difference that doesn't cost the earth.

Goss.ie recently interviewed Lucie to celebrate the collaboration, and she chatted about all things VeganTan, life after Love Island and her "dream man" Luke Malbott. When speaking about her role with VeganTan, Lucie said she wanted to team up with us because of our environmental values.

"The brand has teamed up with Plastic Neutral Programs. This means that for every VeganTan bottle sold, they will be removing and recycling 1lb of plastic from the ocean in Goa, India," she explained.

"By taking this bold commitment, every purchase will carry a Negative Plastic Footprint across the full range of VeganTan products. VeganTan also made sure all their products are packaged in sustainable packaging (sugar polymer & 100% reclaimed plastic from the ocean)."

When asked to share her favourite product, Lucie said: "I am OBSESSED with the Vegan Tan Facial Mist, it is perfect for those make-up free days and gives your face a gorgeous bronzed glow."



The Vegan Tan Self Tan Mist is a light-weight formula that acts as your very own photo filter! Simply spritz over your whole face and let it develop for 2-4 hours for a natural, bronzed glow. Because all VeganTan products are made from 95% natural ingredients, they're nourishing and gentle on your skin, making them suitable for all skin types. And it should go without saying that the Vegan Tan Self Tan Mist is non-comedogenic, because of course it is. We would never let you buy something from us that's going to cause breakouts or block pores. We're nice like that.

We will warn you though, your skin will look so good you'll have to find a hiding place, so your sister won't steal it!
To read the rest of Lucie's interview with goss.ie, click here. 
At Vegan Tan, our mission is simple. We want to make a difference that doesn't cost the earth. We love a healthy tan and a happy planet, and we want to inspire people to enjoy making themselves (and our earth) look fabulous. Our products combine vegan ingredients and gentle science to give you a no fuss, fabulous natural tan, all packed in a bottle that does its bit for the environment. How good is that huh?

For every Vegan Tan bottle bought, we're removing 1lb of plastic from the ocean. You can wear the change you want to see in the world. So, come join us, take a big step for your tan and one giant leap for TanKind!