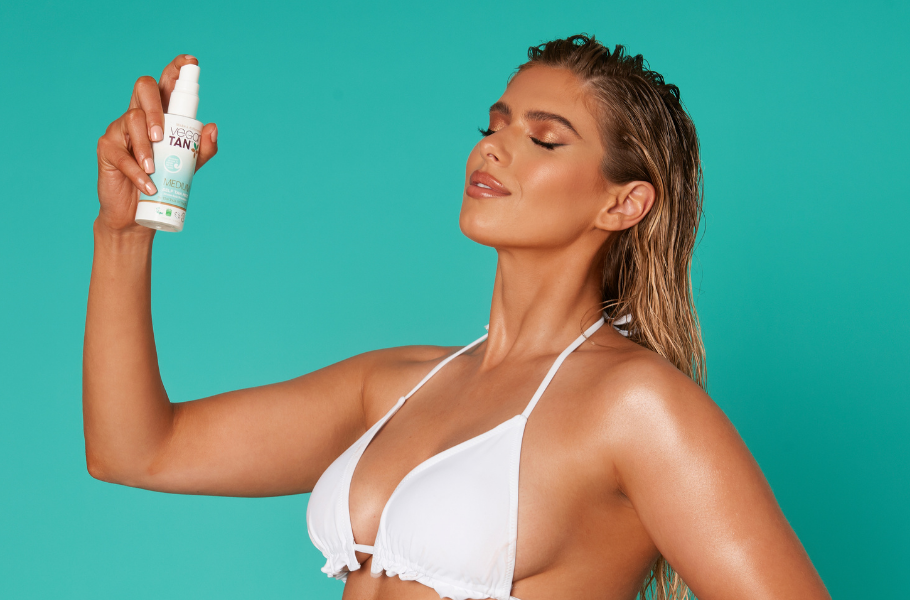 Wave goodbye to facial tan fails...
Don't worry, we've all been there; you have applied your tan, your legs look like something you would see on a Victoria Secret catwalk, your skin is hydrated and then all of a sudden you realise it's time to do your face tan. It can be nerve wrecking when it comes to putting tan on your face, and admittedly, it's hard to look at yourself in the mirror after a bad experience. But don't worry, we've got you boo. We're here to help you eliminate the risk that comes with tanning your face, so stay reading to find out all of our not-so-secret secrets to getting the glam going.
DO
• Make sure it's non-comedogenic: Let's get real here for a second, using the trendiest, most expensive 7-step toning ritual won't amount to much if you're going to ruin it all with one spray of a mist that blocks pores and causes breakouts.

• Start with your best skin: Before tanning, your skin should be properly prepped, cleansed and exfoliated to remove all the scaly memories.

• Use a different self-tan for your face than your body: You wouldn't cleanse your face with body wash, would you? Same thing goes here. The skin on your face is more sensitive than the skin on your body, so it makes sense that it would need a different formula.

• Moisturise those tough areas: Just as you would apply moisturizer to dryer areas like elbows and knees before self-tanning your body, you should do the same with key areas around your face. Moisturize around your nose, eyebrows, and hairline so none of these places turn orange and make you look like you've just been on a mud run.

DON'T
• Don't use too much face tan to start: Take it slow. The goal is to build up to a natural glow that gives a sun-kissed, healthy look, not to look like you've just spent too much time with Donald Trump.

• Don't forget your ears: When you self-tan your face, you actually have to go a little beyond. Make sure to buff it into your hairline, down your neck, and even onto and around your ears so that everything looks flawless.

• Don't move: If you constantly pulling faces while tanning your face, the product will move toward the natural lines of your face emphasizing your expression marks or (dare we say it) wrinkles.

Tanning your face doesn't have to be a risk, and if you follow the tips we've given above then no one will be able to tell you didn't just come back from a tropical vacay in Bora Bora. The best piece of advice I can give you? Use the Vegan Tan Self-tan Mist. I know, I know, I'm biased, but I'm not wrong. The Vegan Tan Self-tan Mist has been formulated to eliminate all the dreads of tanning your face. It's quick drying, non-comedogenic and ensures a perfect fade so that you can rock the 'no make-up' look every day. You can thank me after you've tried it.