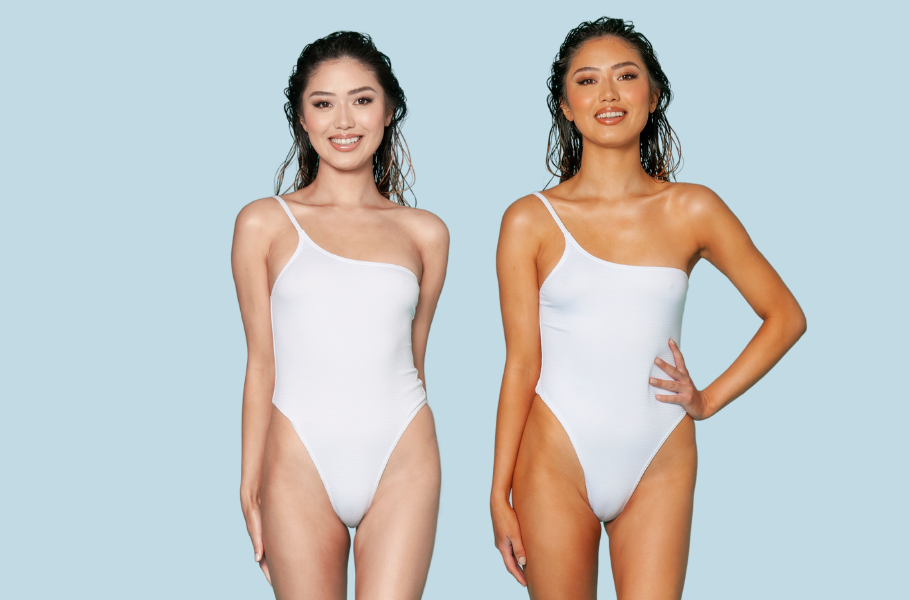 Fake it 'til you make it

It goes without saying that if you're after a tan of any kind, the safest way to achieve one is by faking it. This is all well and good if you're used to fake tan but when you have paler skin, it can be difficult to find products that look natural and won't streak. If you go in guns blazing, you may end up with a colour that's too dark for you, or one that leaves streaks and patches and, let's be honest, it isn't going to look good.

But Ross Geller jokes aside, there is a way to master the art of the subtle fake tan on pale skin. Find the right product – and master the proper application – and you can successfully skip the scaly patches and radioactive glow, and head straight for a gentle, warm tint instead.

The good news is sunless self tanners have come a long way in recent years, and there are several options on the market that can help enhance your skin with a healthy, natural, non-orange glow—from lotions and sprays to mousse and oils. Whether you're trying to recreate a holiday glow or want to even up your skin tone, there's a product that will suit your skin tone and skin type.

Tanning doesn't always need to be a hit-and-miss situation – not when you've got a trusted team of experts like us on your side. Below, we've rounded up the best self-tan tips & products for pale skin to save you from another streaky orange mishap. Get your tanning mitts out, it's time to talk business.

• Shave in advance: To achieve an even tan, it's important to shave or wax at least 24 hours in advance. This way, no hairs will get in the way and cause your tan to be anything less than perfectly smooth.
• Exfoliate your skin: Regardless of how light or dark your skin is, it's always important to exfoliate first. But the lighter your skin, the greater potential there is for a patchy tan to be more obvious. Exfoliating will help remove dead skin cells so there is a smooth canvas for an even tan.

• Try a gradual tan: Taking it slow and building up your colour is one of the best ways for those with fair skin to achieve their perfect shade without accidentally going too dark. Choose a gradual tan that suits your skin tone and use it every day or every other day until you reach your desired colour.
• Choose the right shade: If you have pale skin, you shouldn't be choosing the dark or ultra dark shades because it will just end up looking unnatural and extremely fake. Instead, opt for the Vegan Tan Medium Mousse as it will give you a sun kissed glow without completely changing your complexion.

• Layer products: Layering products will give you more control over the shade your tan will result in. If you're unsure what shade to go with, start with the Vegan Tan Self Tan Mousse for a natural glow. If you decide you want your sunless tan even darker then you can apply multiple layers until you reach your desired colour.
• Use plenty of product: One of the biggest reason's streaks appear is due to not using enough fake tan. The idea of using too much and turning too dark is a real fear for those with pale skin. But, trying to spread too little product too thin is what results in streaks.

You'll no doubt have your approach to sunless tan for fair skin nailed after reading this and you can check out our full-range of natural self-tan products here.
Here at Vegan Tan, our mission is simple. We want to make a difference that doesn't cost the earth. We love a healthy tan and a happy planet, and we want to inspire people to enjoy making themselves (and our earth) look fabulous. Our products combine vegan ingredients and gentle science to give you a no fuss, fabulous natural tan, all packed in a bottle that does its bit for the environment. How good is that huh?

For every Vegan Tan bottle bought, we're removing 1lb of plastic from the ocean. You can wear the change you want to see in the world. So, come join us, take a big step for your tan and one giant leap for TanKind!