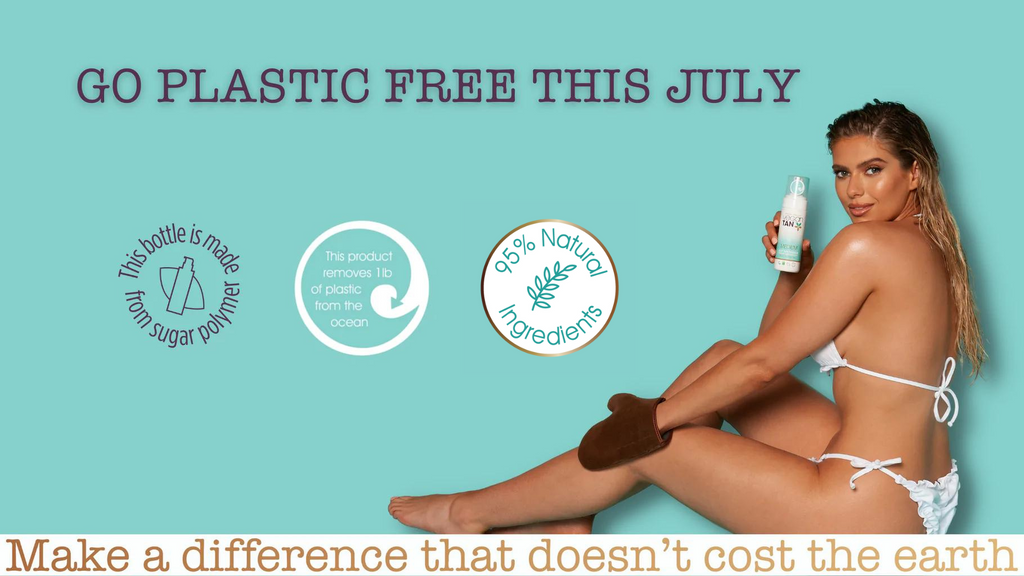 Plastic Free July is a worldwide movement that helps millions of people be part of the solution to plastic pollution, and it is something that we are super excited about here at VeganTan!  Every step we take at VeganTan is designed to respect our people and our planet, so that our boxes are filled with a purpose when they arrive at your door. Through innovation, inspiration and positivity - our mission is to make the world a better place, one golden glow at a time!
This July, we would LOVE for you to join us in our efforts to combat plastic pollution! We encourage all of our fabulous customers to go Plastic Free for the month – small habits are a huge step towards a cleaner planet!
Throughout the month, we will share useful tips and tricks on how each of us can make a step in the right direction. Keep an eye out for some informative Instagram posts & more blogs! In the meantime, let me tell you about the steps we have taken here at VeganTan to ensure that we are playing our part too…
Plastic Negative Products 
Our bottles may look like normal single use plastic, but they're actually made from sugar polymer & reclaimed plastic from the ocean - Talk about sweet sunshine! 
Cleaning up the mess we have all created!
We're participating in Plastic Neutral Programs. This means that for every VeganTan product we sell, we're removing and recycling 1lb of plastic from the ocean in Goa, India. Essentially, it only takes one VeganTan purchase to remove 8 plastic tan bottles from the environment!
Supporting waste workers 
We are adding a crucial income stream for waste pickers and their families in Goa. Through this initiative, VeganTan is boosting these waste workers' income by attaching value to hard-to-recycle plastics, while supporting experienced recycling social enterprises who holistically uplift ex-waste pickers through occupational safety, health insurance, and skills training.
We know our products aren't going to save the world, they can, however, remind us everyday that we can make small decisions towards a cleaner planet.
Here at Vegan Tan, our mission is simple. We want to make a difference that doesn't cost the earth. We love a healthy tan and a happy planet, and we want to inspire people to enjoy making themselves (and our earth) look fabulous. Our products combine vegan ingredients and gentle science to give you a no fuss, fabulous natural tan, all packed in a bottle that does its bit for the environment. How good is that huh?

For every Vegan Tan bottle bought, we're removing 1lb of plastic from the ocean. You can wear the change you want to see in the world. So, come join us, take a big step for your tan and one giant leap for TanKind!